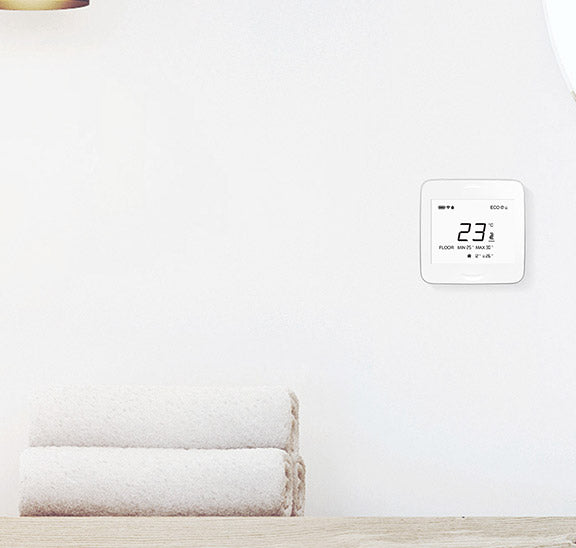 Smart heating system
AirPatrol SmartHeat is a smart heating system with wireless thermostats & smartphone control for every room.
Set a perfect current or timed temperature for each room either from RoomUnit thermostats or via Smartphone/web application.
SmartHeat even enables you to be informed about sudden room temperature changes and your heating system faults.
SmartHeat is suitable for all water based under floor heating systems.


It enables you to control ideal temperature in every room simply and wirelessly
SMARTPHONE AND WEB APPLICATION
Control & overview everywhere
AirPatrol SmartHeat system's full potential is achieved via web and smartphone application.
In addition to controlling the heating, you can set and receive notifications for numerous parameters, turn on/off electrical devices etc.
Control up to 10 zones

AirPatrol SmartHeat is capable of controlling 10 room units from one central unit. This means you can have 10 different zones.
Additionally you get:
• Control your boiler
• Set timers, schedules and notifications for every room
• Valve and frost protection, notifications to guard your home
• Notifications for users and heating equipment service providers
It Works in any home, even with no/lost internet connection
System includes
ControlUnit
ControlUnit is at the center of AirPatrol SmartHeat system.
It can be connected to any water based underfloor heating system's manifold. It can then begin to control each room's heating individually, creating ideal temperature throughout your home while helping you save on energy costs.
Controls up to 10 rooms
A single ControlUnit is capable of controlling 10 different rooms or 20 contours in total, which makes it perfectly suited even for a colossal home.
Smart control with temperature sensors.
SmartHeat enables to monitor various temperatures. Just connect temperature sensor to the Control Unit and it will start reading for example heating water temperature, domestic water temperature, outdoor temperature, etc. It is so smart that it even calculates temperature differences for you if needed.
Connect up to 6 temperature sensor to measure all the different temperatures plus outdoor temperature.
ControlUnit
Wiring Center, Gateway, Relays, Temperature Sensors, M-Bus Connections
Connections
Ethernet LAN
WiFi 2,4GHz
Wireless connection to thermostats, 868 MHz
Temperature sensors
1x Outside temperature
6x Temperature sensors - can be used to measure you domestic hot water, heating water temperatures
3x Relay controls
Control various electrical devicesWeekly timers
10 Actuator connections
Up to 10x RoomUnits thermostats per ControlUnit
Up to 2 contours per Room unit
Room thermostats
RoomUnit & RoomUnit IR
SmartHeat RoomUnit thermostats are plug-and-play devices that monitor and control the temperature of your rooms.
Any room, any floor
There are two types of SmartHeat wireless thermostats – with and without an infrared floor sensor.
RoomUnit thermostat with infrared floor sensor makes sure that your bathroom floor is set to the ideal and that the more demanding floor surfaces are kept safe. The regular wireless thermostat will take care of every other room.
SmartHeat wireless thermostats use 3 AAA batteries for power source. The batteries as well as everything else that you need to set the thermostat up is included in the package. A set of batteries will last for about 2 years and the RoomUnit will let you know when it is time to change them.
SmartHeat mobile APP
Easy overview of your entire home
Easy overview of your entire home
SMARTHEAT MOBILE APP
Control each room or zone
SMARTHEAT MOBILE APP
Set parameters to receive important notifications
SMARTHEAT MOBILE APP
Control electrical devices
Technical room setup
1. Connect to internet
ControlUnit is connected to internet via LAN and WiFi connection and can easily be operated via smartphone or web application.
2. Pair RoomUnits
Pairing RoomUnit thermostats can be done with a couple of clicks and radio connection ensures fully functioning system even without internet.
3. Connect to manifold
SmartHeat ControlUnit can control up to 10 actuators (and therefore rooms) individually and it supports both 230V and 24V actuators.
4. Connect temperature sensors
ControlUnit can monitor up to 6 temperature readings + the outside temperature to create biggest savings with maximum comfort.
5. Connect energy meters
Integrating heating and electricity meters via M-Bus connections will allow for a detailed overview of energy usage in SmartHeat app.
6. Connect electrical devices
ControlUnit eliminates unnecessary electrical waste by turning devices such as boilers, heaters or circulation pumps ON/OFF when needed.
AirPatrol StarterPack
StarterPack includes:
1x ControlUnit
2x RoomUnits
1x RoomUnit IR